Bose X, Dual Plug (Like New)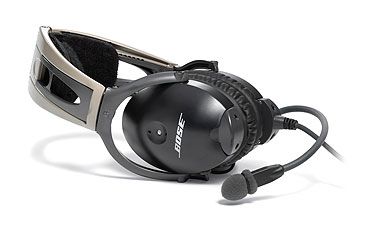 Bose X, Dual Plug (Like New)
Earseals, ear cavity foam and mic muff are replaced on all Bose headsets
Headsets are functionally tested and in cosmetically "good" used condition
This advanced noise reduction technology combines with proprietary TriPort® acoustic headset structure and active equalization to provide quality audio from lightweight, compact earcups. A lighter and more compact headset structure allows Aviation Headset X to require significantly less clamping force than most noise reduction headsets.

The solid magnesium headband is also extremely lightweight, yet durable. A sheepskin cushion eliminates hot spots, and soft ear cushions provide an effective seal, even over glasses. You enjoy acclaimed Bose noise reduction in a comfortable headset weighing only 12 ounces.

The Bose proprietary AdaptiSense headset circuitry allows at least 40 hours of use from just two AA alkaline batteries. It supplies power as needed, detects when you've stopped wearing the headset and automatically shuts off the active electronics after you have finished flying to preserve battery life. The ergonomic control module puts this technology and all other features, including dual thumbwheel volume controls, within easy reach.
Reviews